Professional Civil Engineering Services
Chacon & Menante Engineering and Design, LTD., (C & M), is a newly established civil engineering and project management firm. Our vision is to provide our clients with quality engineering expertise and innovative design solutions with extensive principal involvement on a diverse range of projects.

Our expertise in civil engineering related areas include designs of residential, commercial, and industrial projects within urban and rural areas of the Washoe County limits. Our public sector design experience ranges from street rehabilitations, sanitary sewer realignments, to Special Assessment District's sidewalk and other improvements. Our land development design experience ranges from tentative map preparation, final subdivision improvement plans, shopping center design, utility infrastructures, multi-family housing design, recreational site design, large industrial building design, street and parking lot rehabilitations, and waterline and sanitary sewer relocations and constructions. With our staff, we are able to take projects from the preliminary feasibility and design studies through final design and completion of construction.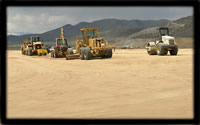 © 2008, C & M Engineering and Design, LTD., All Rights Reserved. Email Login