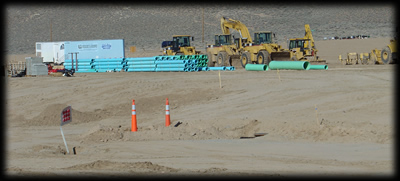 Proposed Subdivision

Project Title: Pebble Creek Subdivision, Units 3 through 7 (245 lots)
Client: Hamilton Homes
Location: Spanish Springs/Sparks, Nevada
Type of Improvement: Subdivision Development
Project Purpose:
C & M Engineering and Design, LTD. was retained by Hamilton Homes to provide final improvement plans for a 245-lot residential, five-phase subdivision along with preparation of SWPPP plans, obtained NDOT encroachment permit, and agency approvals. C & M Engineering and Design completed the final design for Unit 3, which included 54 lots, and submitted to Washoe County for approvals. C & M Engineering is presently under design for Units 4 through 7 and will be submitting to Washoe County within the next year.
C & M Engineering was able to take a conceptual design and turn it into five units which are independent, yet are integrated.